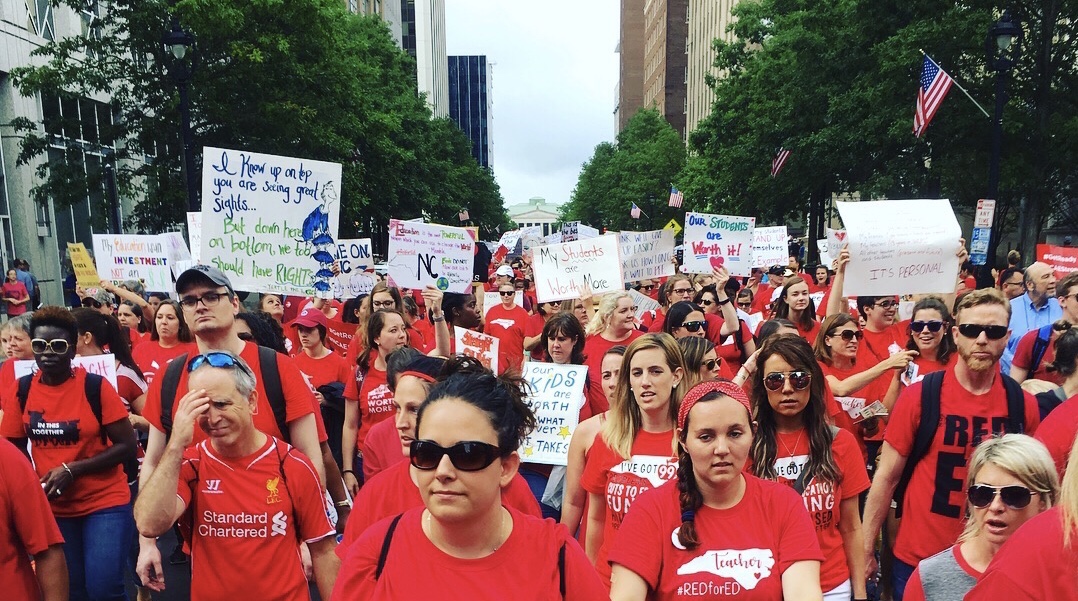 Last year on May 16, thousands of people from across North Carolina that marched on Raleigh to demand that the state legislature support stronger public schools and better working conditions for public school employees.
On May 1, 2019 we're going back to Raleigh. 
Sign up here to reserve your seat on buses provided by Greenway Rides Bus Company leaving from Durham on May 1.
NCAE adopted 5 Demands on the NC General Assembly. Organize 2020, the racial and social justice caucus of NCAE, is working hard to mobilize educators and public school supporters across the state.
Sign up today to reserve your seat on buses leaving from Durham on May 1. We want to fill every seat; if your transportation plan changes, please do us the courtesy of letting us know.
We are committed to ensuring that everyone who wants to can go, regardless of cost or ability. Accessible transportation will be arranged for anyone who needs it. We are requesting donations on a sliding scale for those who can afford it. Please sign up by Sunday, April 28 to reserve your seat.
Can't go to Raleigh or want to make an additional donation to help mobilize for May 1? Visit CAPE's website and make a donation here.
When
May 1st, 2019 7:00 AM through 5:00 PM
Event Fee(s)
It will cost us about $10-$15 per seat to get folks to Raleigh. We are committed to ensuring everyone has the opportunity to participate in May 1, regardless of ability to pay. Please give as much as you can (suggested donation $10-$15 per person).